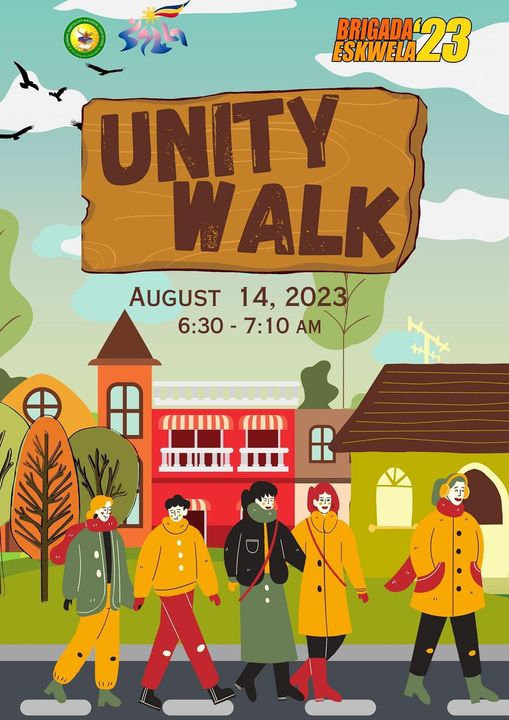 "𝑬𝒗𝒆𝒓𝒚𝒕𝒉𝒊𝒏𝒈 𝒚𝒐𝒖 𝒍𝒐𝒔𝒆 𝒊𝒔 𝒂 𝒔𝒕𝒆𝒑 𝒚𝒐𝒖 𝒕𝒂𝒌𝒆" – 𝑻𝒂𝒚𝒍𝒐𝒓 𝑺𝒘𝒊𝒇𝒕
As we step forward in the journey of our student life, we struggle, we fight, and we grow to become a better person. We, the SSLG officers, conducted the "𝗨𝗻𝗶𝘁𝘆 𝗪𝗮𝗹𝗸" as a peak of the 𝗕𝗿𝗶𝗴𝗮𝗱𝗮 𝗘𝘀𝗸𝘄𝗲𝗹𝗮 and 𝗘𝗻𝗿𝗼𝗹𝗹𝗺𝗲𝗻𝘁 for 𝗦𝗰𝗵𝗼𝗼𝗹 𝗬𝗲𝗮𝗿 2023-2024 in General Santos City National High School.
The 𝗨𝗻𝗶𝘁𝘆 𝗪𝗮𝗹𝗸 will happen on August 14, 2023 and will start sharply at 6:30-7:10 A.M., gathering at 6 A.M. inside the campus of GSCNHS. The 𝗨𝗻𝗶𝘁𝘆 𝗪𝗮𝗹𝗸 will start at the campus's grade 9 PAGCOR building, and will march around the Sports Complex back to the campus.
The presence of the students, parents or guardians, and teachers is highly appreciated!
Layout by: Falcon James Taboada
Caption by: Rafael G. Trinidad