𝗧𝗨𝗚𝗢𝗡 𝗚𝗦𝗖𝗡𝗛𝗦: 𝗖𝗔𝗟𝗟 𝗙𝗢𝗥 𝗗𝗢𝗡𝗔𝗧𝗜𝗢𝗡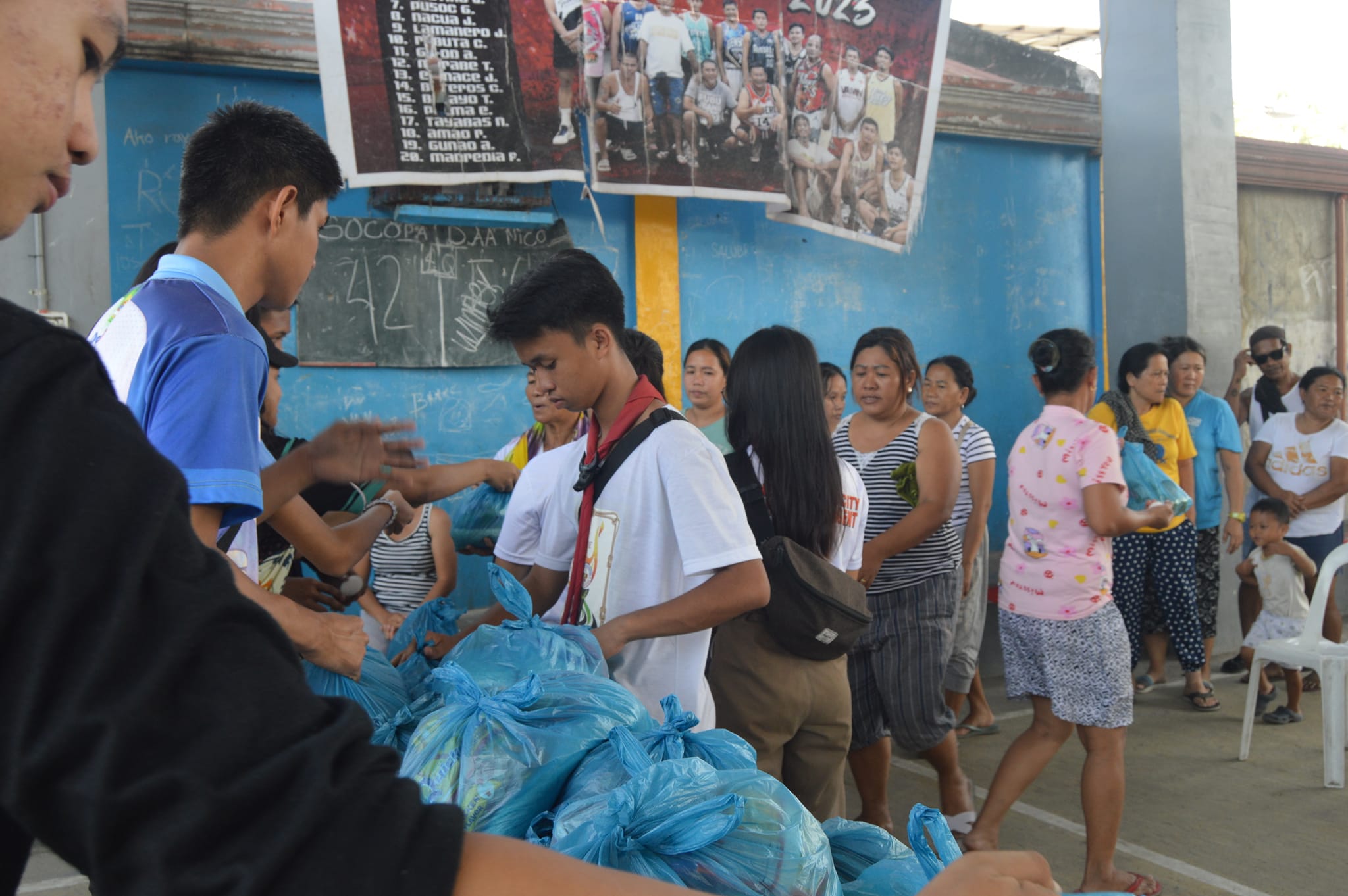 Our program, "𝗧𝗨𝗚𝗢𝗡 𝗚𝗦𝗖𝗡𝗛𝗦: 𝗖𝗔𝗟𝗟 𝗙𝗢𝗥 𝗗𝗢𝗡𝗔𝗧𝗜𝗢𝗡," has the objective of serving as a donation drive for the people affected by the fire that occurred in 𝗣𝘂𝗿𝗼𝗸 𝗦𝗮𝗻 𝗠𝗶𝗴𝘂𝗲𝗹, 𝗕𝗿𝗴𝘆. 𝗖𝗮𝗹𝘂𝗺𝗽𝗮𝗻𝗴, 𝗚𝗲𝗻𝗲𝗿𝗮𝗹 𝗦𝗮𝗻𝘁𝗼𝘀 𝗖𝗶𝘁𝘆.
We would like to express our gratitude to everyone who offered their assistance during this time because the donation drive wouldn't be successful without those people behind it. First of all, we would like to express our appreciation to 𝐚𝐥𝐥 𝐨𝐟 𝐭𝐡𝐞 𝐨𝐟𝐟𝐢𝐜𝐞𝐫𝐬 𝐟𝐫𝐨𝐦 𝐯𝐚𝐫𝐢𝐨𝐮𝐬 𝐨𝐫𝐠𝐚𝐧𝐢𝐳𝐚𝐭𝐢𝐨𝐧𝐬 that assisted in packaging relief supplies between September 1 and September 4, 2023. Second, we want to give our gratitude to everyone 𝐰𝐡𝐨 𝐩𝐫𝐨𝐯𝐢𝐝𝐞𝐝 𝐭𝐡𝐞 𝐯𝐢𝐜𝐭𝐢𝐦𝐬 𝐰𝐢𝐭𝐡 𝐩𝐫𝐨𝐝𝐮𝐜𝐭𝐬 𝐚𝐧𝐝 𝐜𝐚𝐧𝐧𝐞𝐝 𝐠𝐨𝐨𝐝𝐬. Thirdly, we would like to say thank you 𝐭𝐨 𝐭𝐡𝐨𝐬𝐞 𝐭𝐞𝐚𝐜𝐡𝐞𝐫𝐬 𝐚𝐧𝐝 𝐥𝐞𝐚𝐫𝐧𝐞𝐫𝐬 𝐰𝐡𝐨 𝐬𝐡𝐚𝐫𝐞𝐝 𝐭𝐡𝐞 𝐩𝐨𝐬𝐭 and helped spread the word about the TUGON GSCNHS.
We also want to express our deepest appreciation to everyone for listening intently to the needs of our neighbors and for opening your hearts as well as your ears and eyes. We are grateful for letting your hearts blossom to meet the needs of our community.
𝐀 𝐤𝐢𝐧𝐝 𝐠𝐞𝐬𝐭𝐮𝐫𝐞 𝐜𝐚𝐧 𝐡𝐞𝐚𝐥 𝐚 𝐰𝐨𝐮𝐧𝐝 𝐭𝐡𝐚𝐭 𝐨𝐧𝐥𝐲 𝐜𝐨𝐦𝐩𝐚𝐬𝐬𝐢𝐨𝐧 𝐜𝐚𝐧 𝐡𝐞𝐚𝐥. — 𝐒𝐭𝐞𝐯𝐞 𝐌𝐚𝐫𝐚𝐛𝐨𝐥𝐢
𝗪𝗲 𝗮𝗽𝗽𝗿𝗲𝗰𝗶𝗮𝘁𝗲 𝗮𝗹𝗹 𝗼𝗳 𝘁𝗵𝗲𝘀𝗲. 𝗧𝗵𝗮𝗻𝗸 𝘆𝗼𝘂, 𝗖𝗶𝘁𝘆 𝗛𝗶𝗴𝗵𝗶𝗮𝗻𝘀!
Photo Credits: Ang Pastol | GSCNHS