𝐌𝐎𝐒𝐓 𝐈𝐍𝐍𝐎𝐕𝐀𝐓𝐈𝐕𝐄 𝐑𝐄𝐀𝐃𝐈𝐍𝐆 𝐏𝐑𝐎𝐆𝐑𝐀𝐌 & 𝐌𝐎𝐒𝐓 𝐅𝐔𝐍𝐂𝐓𝐈𝐎𝐍𝐀𝐋 𝐑𝐄𝐀𝐃𝐈𝐍𝐆 𝐂𝐄𝐍𝐓𝐄𝐑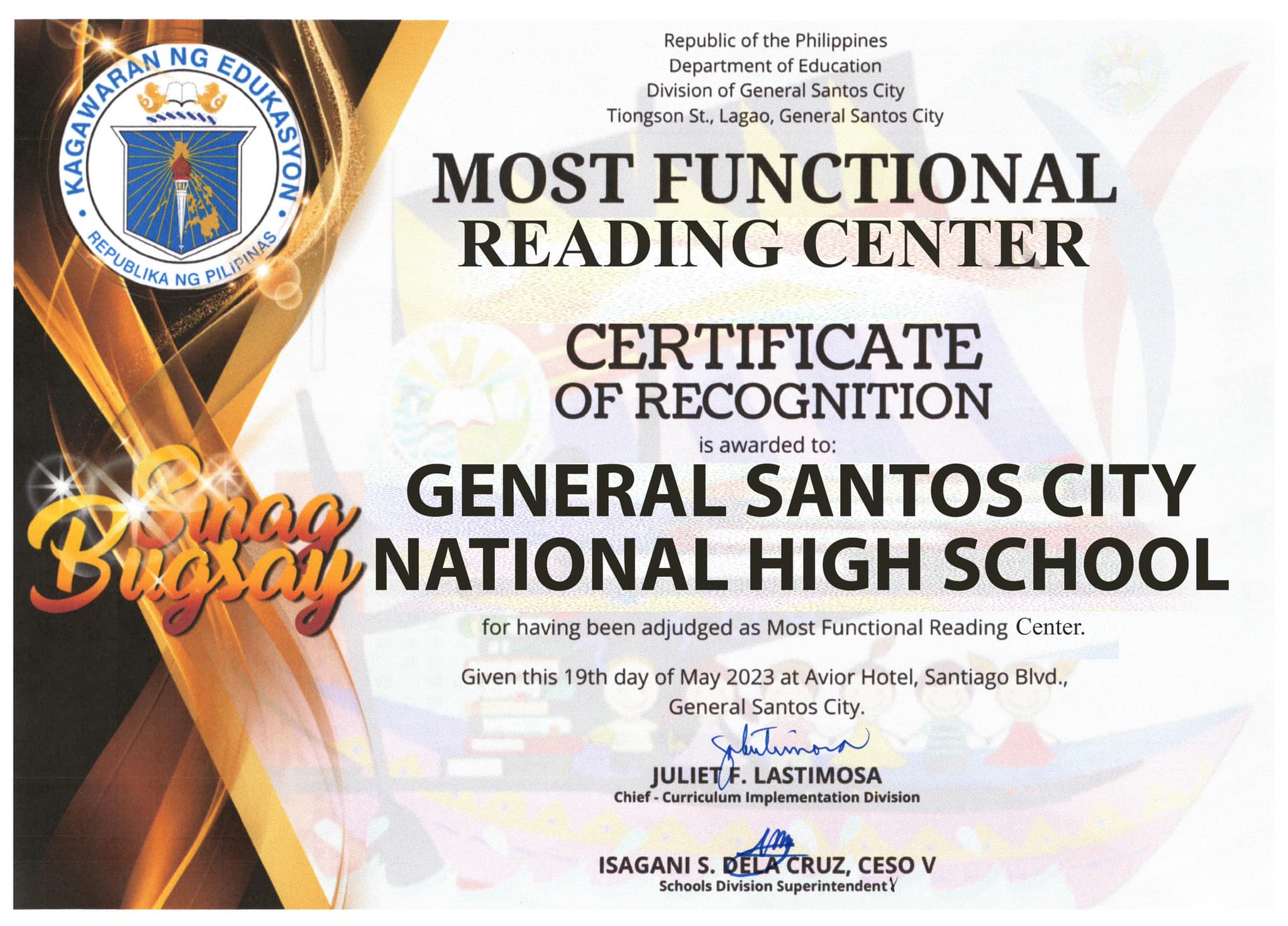 CONGRATULATIONS 𝗚𝗦𝗖𝗡𝗛𝗦!
𝐌𝐎𝐒𝐓 𝐈𝐍𝐍𝐎𝐕𝐀𝐓𝐈𝐕𝐄 𝐑𝐄𝐀𝐃𝐈𝐍𝐆 𝐏𝐑𝐎𝐆𝐑𝐀𝐌
𝐌𝐎𝐒𝐓 𝐅𝐔𝐍𝐂𝐓𝐈𝐎𝐍𝐀𝐋 𝐑𝐄𝐀𝐃𝐈𝐍𝐆 𝐂𝐄𝐍𝐓𝐄𝐑
The Department of Education-Division of General Santos City acknowledged the reading initiatives and best practices implemented by 𝗚𝗲𝗻𝗲𝗿𝗮𝗹 𝗦𝗮𝗻𝘁𝗼𝘀 𝗖𝗶𝘁𝘆 𝗡𝗮𝘁𝗶𝗼𝗻𝗮𝗹 𝗛𝗶𝗴𝗵 𝗦𝗰𝗵𝗼𝗼𝗹 to develop the learners' reading skills as part of the response to Hamon: Bawat Bata Bumabasa or DepEd 3B Initiative.
With this, the GSCNHS Family would like to extend appreciation to all teachers, parents, students, school and community stakeholders who continue engaging themselves to intensify the school reading programs. The school will continue to contribute possible solutions to improve the country's education system, especially in equipping the learners for them to become functionally literate.